Skip to Main Content
It looks like you're using Internet Explorer 11 or older. This website works best with modern browsers such as the latest versions of Chrome, Firefox, Safari, and Edge. If you continue with this browser, you may see unexpected results.
Calvert Library
CRAB cards: Calvert Research Access & Books
All Calvert County Public School students now have special Calvert Library accounts. Virtual CRAB cards give every child access to:
With a C.R.A.B. card, students can:
Access online databases

Get free online homework help

Check out up to 10 print books with NO FINES
Log into resources with the prefix calv and your student ID (ex: calv12345)
Your initial password is your 8-digit birthdate and can be changed at any time.
CRAB Card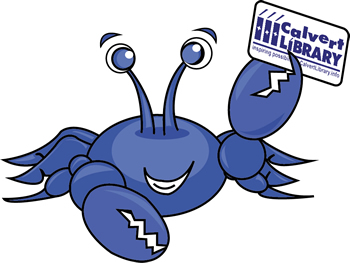 Calvert Library Logo
Free Hit Counter